Take a RAMP year with Coryer Staffing
Thinking about your future? We are too! The RAMP team is here to help undecided high school juniors and seniors figure out what they want to do after graduation. As you're contemplating all of your options (and there are quite A LOT of them!) we encourage you to keep RAMP in mind.
RAMP is a year-long program where you'll have the opportunity to earn a paycheck while exploring different industries and positions throughout the North Country. Develop your skills, build your network and earn a micro-credential career development badge in Advanced Manufacturing from Clinton Community College.
Your RAMP year features:
The opportunity to gain a variety of valuable experiences at four different employers
A clear picture of what your career options look like
Life skills training that you can use no matter what path you choose
And it's all for free!
Our team of RAMP Counselors are committed to providing you with a viable path to success after high school graduation. If you're ready to catapult your career, our team is here to help.
---
---
About RAMP
As a full-service staffing and recruiting agency with more than 20 years of experience, Coryer Staffing's sustainable approach to recruiting, deep understanding of regional workforce needs, and resolute belief in the potential of the workforce of tomorrow come together in the RAMP by Coryer Staffing program.
Founded in2018, the mission of RAMP is unparalleled. Through 12-months of diverse work experiences and a wealth of training opportunities with partners throughout the region, a RAMP participant can very well transform from a high school student to a valuable employee during their RAMP Year. By engaging with recent high school graduates, RAMP is building a new generation of workers. And best of all, RAMP is totally free for all high school graduates.
For companies,for RAMP participants, and for communities, the importance of progressing upward is central to Coryer Staffing's philosophy on staffing, career guidance and RAMP itself. Coryer Staffing invites you to partner with RAMP, cultivating real-life skills and work ethic, elevating the workforce across the North Country.
---
As a current RAMP employee I can tell you that this is one of the best choices I've made. It gave me an opportunity straight out of high school to earn money and gather life experience while I decide what to do for the rest of my career.

Tyler McLean, Lining Operator (Ausable Valley Class of 2019)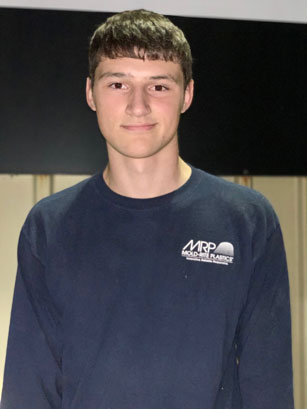 ---
Interested? Contact Us Today!